Get ready EDM fans, because The Chainsmokers, with support from Kiiara and Shaun Frank, are coming to Joe Louis Arena on Thursday 27th April 2017 to give you the best night of your life! What are you waiting for? Tickets selling fast – get yours NOW to avoid disappointment!!!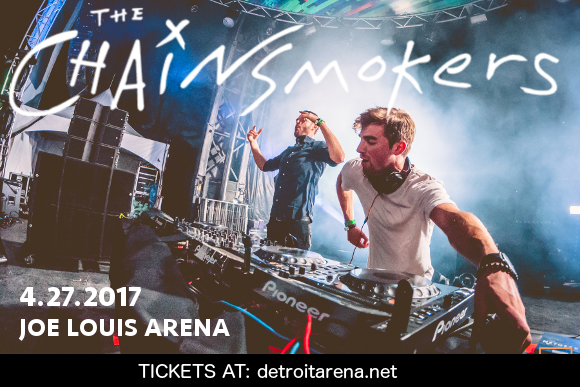 The Chainsmokers, a DJ/Producer duo consisting of New Yorker Alex Pall and Maine-hailing Andrew Taggart, produce a unique brand of EDM. Their debut EP was a huge commercial success, hitting the top 10 of the US Billboard Hot 100!! The album also saw a huge positive reception from critics, with their single, "Don't Let Me Down," being described by Popdust as "an enormously engaging strip of gritty dance-club euphoria. Percussion vibrates underneath a well-constructed skyscraper of synth and evocative vocals from the 17-year-old Daya."
Kaira Saulters, known by her stage name Kiiara, is an electropop and alternative RnB artist from Wisconsin, Illinois. Influenced by artists as diverse as Eminem to Rihanna to Linkin Park, she worked on her debut EP whilst working as a hardware store clerk.
The original singer of The Envy, a successful alternative rock band who opened for KISS during their Hottest Show on Earth Tour in 2010, Shaun Frank went down a very different musical route after the band broke up due to external issues. Starting to explore house music, he went on to collaborate with massive artists of the EDM scene, including Oliver Heldens, Borgeous, KSHMR, DVBBS, and headliners, The Chainsmokers!!
Don't miss out – book your tickets to see The Chainsmokers, Kiiara and Shaun Frank TODAY!!