Joe Louis Arena Seating Chart
The Joe Louis Arena can hold an impressive capacity, with seats between 20,000 to 22,000, depending on the type of event. For events such as; Hockey games, music Concerts and Basketball games, the venue can be versatile and more seats will be made available.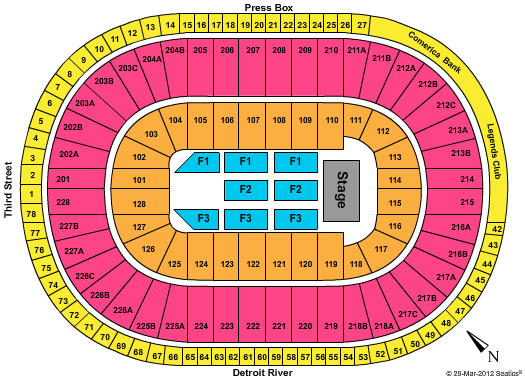 What a way to enjoy a night out in this incredible city, then seeing your favorite musician grace the stage or catching your favorite player score a goal! You will be spoilt for choice when choosing your seats in this huge venue. And of course with it's spaciousness, comes wonderful nature acoustics to carry the noise in a clear and full bodied way so that you won't have to miss a single note!
The live energy in a venue such as this cannot be described and is truly the only way to be experienced.
See seating chart for more details and information to help you choose.